First, standing ovation for
The Bibliophile's Lounge
. Winner of the Big Sis, Little Blog program. He'll be getting a new blog design pretty soon....and I would like to ask a favor to all my bloggy buddies. Can you run on over to Chase's blog and show some love by following him and saying hi. He really has a wonderful blog already, and it always cool to hear a guys POV on the books. This is definitely a female heavy community. Thanks!
Secondly, stay posted because I'm having a wonderful contest later on this week with a chance to win a $50 Gift Card. Biggest prize ever on this silly blog!
And speaking of friggin' huge contest, you guys know I never do this, but I had to spread this one. I can't even name that amount of sheet she has to give away. Run on over to Cleverly Inked and enter her Birthday Phenomenon. Like 53 books (much of them signed) and a ton of swag, I mean a ton. I couldn't even phantom giving this amount of stuff away. Crazy contest, Happy Birthday Liz. Click the button to go on over!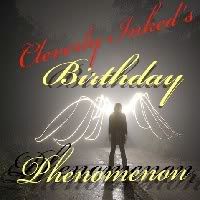 Currently Reading: