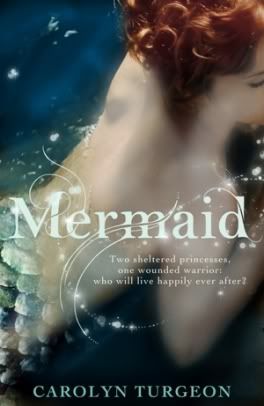 Flip your fins in welcome to the fabulous Carolyn Turgeon, author extroidinaire of
Mermaid: A Twist on the Classic Tale
. I love fairy tale retelling, what about you?
Author:
Carolyn Turgeon
Genre:
Adult, Fairy Tale
Fantasy Element:
Mermaids (Obviously)
Order Online:
Amazon.com
Stalk the Author:
Web
|
Twitter
|
Blog
Hello! So I wanted to introduce you all to my new book
Mermaid
, which is a retelling of the original Little Mermaid story (
the one by Hans Christian Andersen, which is very different from the one with singing crabs
) and its three main characters: the mermaid princess Lenia, the human princess Margrethe, and the hot human prince they're both in love with, Christopher.
These are all characters straight from the original story, though they are unnamed there, and the human princess shows up only briefly at the beginning and briefly at the end of the original story but still manages to snag the prince, thereby breaking the mermaid's heart. (In the Disney film, the princess is made into an evil villainess because romantic rivals are always evil incarnate, especially if they are of the female sort, and it is the mermaid Ariel who gets her prince because that is what Disney heroines do).
Here is me dressed as said
mermaid for a costume ball,
by the way.
There are other characters in the book as well, of course, like various kings and advisors and abbesses and ladies-in-waiting and sea witches and mermaid sisters.
Mermaid
is set in medieval Scandinavia so there is also a lot of ice gloomy seascape and ominous castles rising from cliffs. And there's the world at the bottom of the sea.
This is Lenia's world, though Lenia longs to visit the world above, which at the beginning of the book she knows only through her sisters' stories (they are all allowed to visit the human world only once, on their 18th birthdays) and the bone-filled shipwrecks littering the ocean floor.
In writing
Mermaid
, it was a bit of challenge imagining what it would be like to be such a creature, a young
mermaid
at the bottom of the sea. Of course she has a tail, which I imagined would be very powerful, propelling her through the ocean quickly and surely in a way she would miss as a human, after she makes the exchange with the sea witch. Imagine. You can swim in the deep ocean! You have gills, you can see in the dark, you have a powerful tail moving back and forth behind you. You can't have normal human skin on your upper body in that kind of environment, right? It must be hard, kind of glittering and smooth, protecting you from cold and whatever else lurks down in the deep. All those giant squid and glow-in-the-dark creatures with weird spindly appendages. How free and wild it would feel, racing through the water!
I loved creating the
mermaid
world for this book, but the scenes I liked writing most were after Lenia visits the sea witch, drinks the potion that transforms her tail to legs and makes her fit for the human world (at great price of course). Her tail turns to legs, her skin turns to human skin, and she feels naked and strange and weak. Imagine feeling wind for the first time, air and grass and the dry world. Imagine taking a bath and slipping into a gown. Imagine every single thing, every feeling and sensation, being brand new. And imagine seeing a horse for the first time, and then riding one.
Here is how I did it:
Lenia stared, shocked. These huge black creatures with thin tall necks, the long faces bobbing up and down as if they were floating on water. Their black eyes on the sides of their heads, staring. Like fish, she thought, breathing in.

…..

Lenia swayed back and forth on top of the animal, grasping the reins. She could feel the blood moving through the horse, its pounding heart. With each step she felt more in line with its body.

The dogs were released, a pack of animals bolting out ahead of them, and the group of them followed. Lenia's horse began to gallop, to run, and she was not afraid, but felt a part of it. She leaned into her steed, shifted her body so that they moved faster and faster. And she was laughing, soundlessly, as the hounds rushed ahead and the horse raced to follow. The wind streamed against her skin like water. In front of her the men charged forward, and the prince was in front of all of them, lifting his weapon.

She tore into the wind, faster than anyone else. It was wonderful, the feel of this powerful beast under her, moving her through the forest as if she were swimming, as if she were being propelled by her powerful tail. She felt less awkward, freer on this animal. She hadn't realized how much it was a part of her, that power that had come from living in her mermaid's body, having that strong tail that pushed her through the water. Here, now, she almost had that back. Almost, but not quite. And for a moment, she missed it, that freedom and power she'd had once, with every fiber of her being.
I haven't even mentioned that other big difference between a mermaid and her human self: she now has genitals! Which are very convenient when one is leaving the sea and entering the himan world in order to get with a prince. But this isn't really the time nor place to discuss that and I'm just about out of room anyways. =)
Contest Deets FOUR WINNERS:
TWO (2) winners will receive signed copies of Mermaid: A Twist on the Classic Tale
TWO (2) winners will receive Mermaid: A Twist on the Classic Tale
swag packs.
Requirements:
Following is not required but is appreciated!
US Only
Comment to win, flip your fins for this one:
You've just sold something very important to the sea witch to become a human. What is it? (What would you give up for love?) And, what do you think would be the most thrilling to experience for the first time as a human?
Please Spread the Word

1. Tweet:
WIN! Signed Mermaid by Carolyn Turgeon hosted by @parajunkee & @Tynga #ParanormalSpringBreak #giveaway http://bit.ly/hZ00jw PLZ RT
Legal Stuff:
Parajunkee's View or Tynga's Reviews is not responsible for items lost in shipping or items shipped from 3rd party sponsors.

Winners are chosen using a random number generator based on the comment number.

You do not have to be a follower to participate.

Winners will be announced on this blog on April 6th and by email if one is provided either in comments or on your profile.

There is no limit to the amount of giveaways you can enter during Paranormal Spring Break but you can only enter each giveaway once (main entry and any extra entries available), if it is found that a person has entered the same giveaway more than the allotted entries those entries will be disqualified.

If it is not stated, it should be assumed that giveaway items have been provided by a 3rd party as a donation to Parajunkee's View.