Hola my lovely readers. Just some updates to keep you informed about what is going on in the PJ world.
Call for Associate Reviewers
There will now be associate reviewers on the PJV. Two ladies expressed a good deal of interest in reviewing for the PJV and I think things might work out well with them. I'm not going to introduce them right now until things are nailed down, but look for reviews from them to come soon. I would still love to have someone local, meaning someone from the Greater New Orleans area, but I think that might require an effort on my part to recruit outside of the book blogging community. If you are interested
email me
.
Book Bloggers and Publishers Online Conference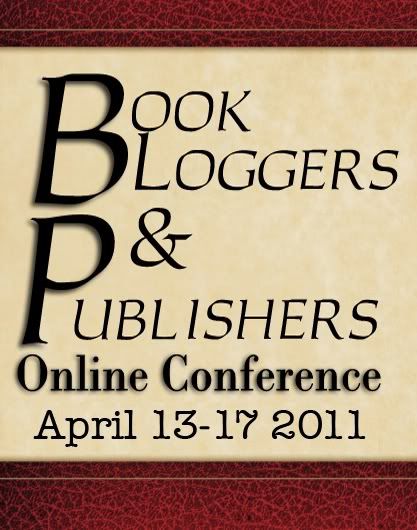 I will be attending the Book Blogger Confrerence, April 13 - 17th. I have attended these in the past and they are always full of very helpful information.
Informative panels include ones on General blogging and publishing. With helpful topics on:
Legal Issues regarding Book Bloggin
Copyright issues
Financial information
Audio Books
Publisher Blogs
Self-Publishing
PopUp Publishers
Reviewing Print vs. eBooks
Single vs. Multiple Reviewer Sites
Mission Statements
Promoting Your Site
and much much more
Then on top of those discussions there will also be panels on time management, handeling burn out, and Young Adult panels.
Within the coference there will be a forum set up and chat rooms where you can discuss the topics discussed and do a meet and greet with other bloggers and publishing industry professionals.
There will also be tons of giveaways and books and freebies just for signing up. This is a great place for newbie and seasoned bloggers to network and get a foot in the publishing door.
It was my birthday this past week and I just want to send out a BIG thank you for all the well wishes and happiness. I actually landed an iPad2 for the big 33 - special thanks to the love of my life for that one, so just another way to read books!
I am now an offical MacHead chick. One iMac, One Mac Pro, two iPhones, one iTouch and now an iPad. Lordy lordy. But, and happiness rolled into more books... the lovliness that is NetGalley has a feature where you can read books from NetGalley on your iPad or iPhone.
With the help of the Blue Fire app you can download NetGalley books on your iPad and iPhone.
Awesomeness rolled into a book, here is the directions from NG
.
#LaunchLaura Fun!
This Thursday I actually got to participate in a very fun twitter party! #launchlaura for author Laura Kaye. I designed her website to promo her new books that are soon to be released. If you have the time you might want to stop by and check her out. Especially if you have a liking for romance...
http://laurakayeauthor.com

What was in the mailbox this week? Egads I don't even know where to start!
The Rise of the Iron Moon
by Stephen Hunt
From the author of The Court of the Air and The Kingdom Beyond the Waves comes a thrilling new adventure set in the same Victorian-style world. Perfect for fans of Philip Pullman and Susanna Clarke.


Born into captivity as a product of the Royal Breeding House, friendless orphan Purity Drake suddenly finds herself on the run with a foreign vagrant after accidentally killing one of her guards. Her strange rescuer claims he is on the run himself from terrible forces who mean to enslave the Kingdom of Jackals as they conquered his own nation. Purity doubts his story, until reports begin to filter through from Jackals' neighbours of the terrible Army of Shadows, marching across the continent and sweeping all before them. But there's more to Purity than meets the eye. As Jackals girds itself for war against an army of near-unkillable beasts serving an ancient evil with a terrible secret, it soon becomes clear that their only hope is a strange little royalist girl and the last, desperate plan of an escaped slave.



Aftertime
by Sophie Littlefield
Someone once said that all apocalypses are experienced locally. In the case of Cass Dollar, the nightmare occurred with the violent abduction of two-year-old Ruthie, which she vividly remembers. Only later is young Cass assaulted also by the vague, twisting memories of a much wider conflagration that she herself only narrowly survived. A government experiment had turned the entire California landscape into the hunting grounds of zombie Beaters, but Cass can only think of the helpless toddler she is missing. A deeply arresting paperback original. Editor's recommendation.
During the highly competitive initiation that follows, Beatrice renames herself Tris and struggles to determine who her friends really are—and where, exactly, a romance with a sometimes fascinating, sometimes infuriating boy fits into the life she's chosen. But Tris also has a secret, one she's kept hidden from everyone because she's been warned it can mean death. And as she discovers a growing conflict that threatens to unravel her seemingly perfect society, she also learns that her secret might help her save those she loves . . . or it might destroy her.
The Hourglass Door
& The Golden Spiral (Book 2 in the Hourglass Door Trilogy)
by Lisa Mangum
His past. Her future. Can love bring them together in time?Abby's senior year of high school is textbook perfect: She has a handsome and attentive boyfriend, good friends, good grades, and plans to attend college next year. But when she meets Dante Alexander, a foreign-exchange student from Italy, her life suddenly takes a different turn. He's mysterious, and interesting, and unlike anyone she's ever met before. Abby can't deny the growing attraction she feels for him. Nor can she deny the unusual things that seem to happen when Dante is around. Time behaves differently when they are together - traveling too fast or too slow or sometimes seeming to stop altogether. When the band Zero Hour performs at the local hangout, Abby realizes that there's something dangerous about the lead singer, Zo, and his band mates, Tony and V. Oddly, the three of them are also from Italy and have a strange relationship to Dante. They also hold a bizarre influence over their audience when performing. And Abby's best friend, Valerie, is caught in their snare. Dante tells Abby the truth of his past: he once worked for Leonardo Da Vinci, helping to design and build a time machine. When Dante was falsely implicated as a traitor to his country, he was sent through the machine more than five hundred years into the future as punishment. As the past and the present collide, Abby learns that she holds a special power over the flow of time itself. She and Dante must stop Zo from opening the time machine's door and endangering everyone's future. More than one life is at stake and Abby's choice could change everything.
Switched (Trylle Trilogy, Book 1)
by Amanda Hocking
When Wendy Everly was six-years-old, her mother was convinced she was a monster and tried to kill her. It isn't until eleven years later that Wendy finds out her mother might've been telling the truth. With the help of Finn Holmes, Wendy finds herself in a world she never knew existed - and it's one she's not sure if she wants to be a part of.
Fierce Dawn
by Amber Scott
Snarling teeth, glowing eyes. Someone--something--is after her.
The man who haunts her dreams enters her reality, claiming she's transforming into a changeling--not quite immortal but no longer human.

Battlelines are drawn and blood spills as the two fight not only for her life, but for mankind's as well.


The Vampire's Warden
by SJ Wright
I couldn't seem to contain the inferno burning inside me, being that close to him. Even knowing the danger he posed and the gruesome scenes that must have been caused by him, I still felt a burning inside me every time I heard his voice or felt his hot gaze on me.

But I was the Warden. He was one of the damned. We were destined to be at odds. Enemies.