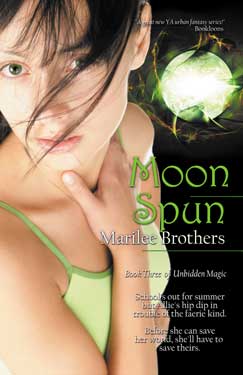 How did PJ get this book?
Review copy provided in exchange for a fair review.
Purchase:
BookDepository
Amazon.com
Stalk the Author:
Web
Rating:
Moon Spun
By Marilee Brothers

PJVs QUICKIE POV:
The latest book by Marilee Brother's takes the world of Alfrieda to a whole 'nother plane. Fairyland to be exact - and while the series just got a lot more complicated it was enjoyable. There were a few moments where I was just a bit overwhelmed by the craziness the series had taken and fairyland did seem a bit 2D compared to the vibrant Peacock Flats. But, besides some of the sillier moments of the novel, I did enjoy and look forward to any more books that Brothers might release.
REVIEW:
Allie's life is getting more complicated by the month. Her mother is now dating her principal. Her ex-boyfriend Junior is back from Mexico with his movie-star entourage, Beck is at college "healing" vulnerable fellow half-demons and she is babysitting a Changeling, or so says the Hawk-shifter Ryker who wants to bring her to fairyland to meet her grandmother. You can't get anymore crazy than this. Or can you?
Like any evolving series the plot-lines get crazy and thick. Brothers did a good job of holding on to the structure of the series and maintained the overall feel of Allie and her cohorts. Her mother is progressing and the new characters introduced were very full and descriptive. My only problem came with the introduction of the fairy realm - it just seemed very Shakespearean with not a lot of "new" concepts. With so many great books that have Fairy Realms, I just couldn't help but compare.
RECOMMENDATIONS:
Fans of the lighter side of the paranormal should really enjoy. This is fit for younger teens, parents there is nothing to be worried about in this one. Must read if you enjoyed
Moonrise
, I do not recommend if you have not read the first book.