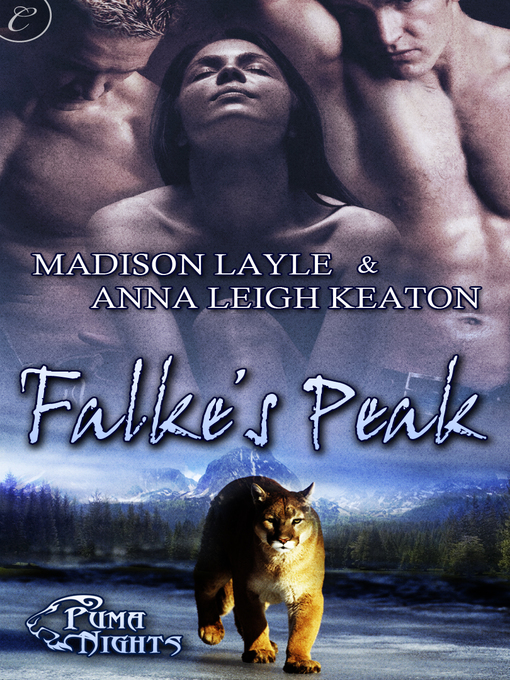 Genre:
Paranormal Romance, Erotic
Paranormal:
Shifter / Puma
Pre-Order for Dec 20th:
Amazon.com
|
Carina Press
Stalk the Authors:
Anna:
Web
Madison:
Web
Review copy from netgalley.com
PJVs QUICKIE POV:
Sexually changed, emotional riveting and disastrously touching - I couldn't put
Falke's Peak
down! Who needs to eat Thanksgiving dinner when I got to spend the day holed up in a cabin with Dakota, Gunnar and Axel.
REVIEW:
Dakota was just looking for some time away, a little girl time to relax from her hectic corporate job. Nothing could have prepared her for one of her friends breaking her arm and her other girlfriend inviting her fiance' along to fill her injured friend's spot. Now she is the third wheel and in desperate need to get away from the kissing noises.
Compulsively she walks into Catamount Outfitters and books herself an outing. A trek up the mountain with an extremely hot guy with a mountain lion as her guide - what more could a girl as for? Funny thing is she doesn't know which guy will lead her since there are like six of them, quadruplets and twins, oh my! The Falke brothers are mouth-wateringly good looking, rugged, and shape-shifters.
Axel, the eldest ends up leading Dakota up the mountain, his brother Gunnar in his cat form there for protection, which is standard for their expeditions. The brothers aren't prepared for Dakota though and their usual "no nookie with the clients" gets very hard to handle as both guys find that they are falling hard for the spunky tourist.
An absolutely enjoyable read, I found an emotional connection with this little bit of erotic fun - which is very surprising and quite different than the usual menage smut. I loved all of the characters, Dakota was great, rational and believable. The romance with the brothers was actually very realistic and their reveal and subsequent "wooing" was handled superbly. They faced their problems in an adult manner and their reactions were something I could see actually happening. Bravo ladies you do a wonderful job in penning this tale. I can't wait to read more - which I'm sure there will be since we have four more brothers left and a sister!
RECOMMENDATIONS:
Shifter fans will definitely enjoy, but this is also a great transition novel for romance lovers that would like to put a little paranormal in their diet but don't want to be overwhelmed with the insanity that sometimes happens with the world building. This one is very subtle - a great transition novel.